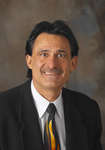 Hank Gintof Jr.
Realtor Owner/Broker
Honest, Dependable, Hard-working
You can see it as you walk through the Signature Properties door and feel it with the first handshake. You know that the service you receive from Hank and his team can and will make all the difference in your real estate endeavor and it helps put your mind at ease. You know that Hank will not only take care of whatever problems arise but he will actually foresee and avoid barriers that might complicate or hinder your family's big move. You never have to worry when Hank is involved, you know that he will work tirelessly with your best interest in mind. He'll use his 20 years of experience in the industry to inform and educate you as to any questions or concerns that he may have, and then he will work to resolve them.
Dependability.
No matter what your real estate needs, you can depend on Hank. Just kick back, relax because you know that Hank will be there to handle all facets of your transaction. From home tours to closings and everything in between Hank's got you covered. Like your favorite pair of slippers Hank will be there to help you feel at ease.
Hard work.